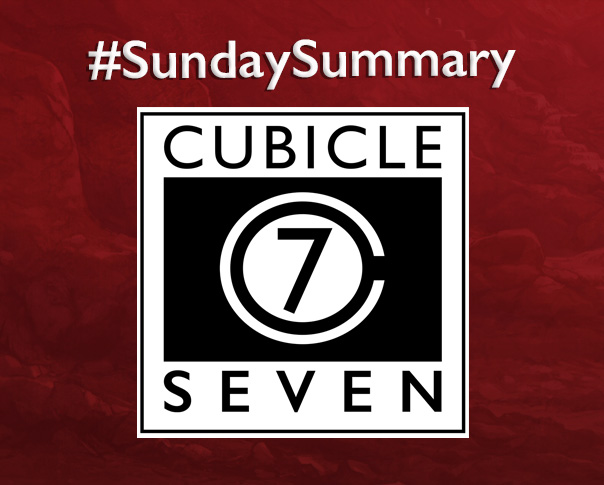 GenCon Prep! We have a hectic week ahead as the C7 team travels to GenCon from August 1-4 in Indianapolis! Known as The Best Four Days in Gaming™ and the largest gathering of tabletop gamers in North America, the C7 team are incredibly excited to meet lots RPG fans! Come say hello and find out more about our award winning RPGs at booth #2229!
Seminars, Workshops & More!
C7 CEO Dominic McDowall will be giving a seminar on Saturday at 3pm at the Stadium in Meeting Room B. Dom will be sharing lots of exclusive news, updates and maybe some sneak peeks!
WFRP fans would be mad to miss our special event at mid-day on Saturday 3rd August at the JW in room 311. Warhammer Fantasy Roleplay: 'A Rough Night of Your Very Own' - is an event hosted by legendary WFRP author Graeme Davis. Graeme will lead a collaborative session on how to design this unique type of scenario!
On Sunday 4th we are hosting a C7 Freelancer Workshop with our experts! If you are interested in working on WFRP, Age of Sigmar: Soulbound or our other RPGs and card games then this is the event for you! Come and find out about freelancing for Cubicle 7 Entertainment at the Mariott in the Tennessee room. Whether you're a designer, writer, artist, graphic designer, layout artist or goblin wrangler, we'd love to meet you. Drop in between 10 - 12am!
Now, let's recap on all of last weeks news, we shared lots of updates and content! We also sent out our latest newsletter - if you missed it, you can sign up here so you can get the next one!
#MortalRealmsMonday On Monday we discussed another Archetype for Age of Sigmar: Soulbound — the stalwart Auric Runesmiter of the Fyreslayers.
Fire and Gold
You are a priest of the fyreslayers, the power of fire and earth are yours to command.
Though their god is dead, the power of an Auric Runesmiter is very real indeed. With their command over the earth's fire, a Runesmiter can melt stone, boil rivers, or turn a weapon to molten slag in an opponent's hand. However, their true gift is their connection to the Shattered God. Every fyreslayer has some sense for ur-gold, a tingling in the nose perhaps, an itching on the palms, but only a Runesmiter can pluck a single ur-gold coin from a chest full of base gold. Many fyreslayers revere the Auric Runesmiters as the living representatives of their god, for while it is the Runemasters that craft the ur-gold into runes of power — it is the Runesmiter whose innate skill awakens their full power. Some Runesmiters may aspire to become a lodge Runemaster in their own right, but most, like their fallen god before them, are too addicted to the fury of combat.
Read the full post here.
#WarhammerWednesday On Wednesday we shared another excellent blog post from Ben Scerri.
Hello Again, like many of you out there, I'm eagerly awaiting when Rough Nights & Hard Days is delivered to my door. I have it on good authority that it's speeding to me as I write these words, so naturally, my mind is preoccupied with how I'm going to run it!
For those who have already read the PDF, you'll know we included several different ways to use the five adventures it contains. For my tastes, I'm going to go with the first option the book offers: run them in sequence as a campaign, with the Characters working for the gravin!
I'm not the only one who is taking this option; I've seen folks online discussing how it might be done to best effect. Naturally — because I overthink everything — I've given this a lot of thought myself, and I thought it might be interesting to share my own plans. The following plan also serves as an example for new GMs of one possible way of structuring a campaign, so buckle up as it's going to get rough!
(Read the full post here. Needless to say, it contains SPOILERS!
#TORsday When we revealed the cover for The One Ring – The Lord of the Rings™ Roleplaying Game by Johan Grenier recently, a number of canny fans spotted that there seemed to be more to the scene that we couldn't see. Last Thursday we showed you the full piece!
Previously we has also shared artwork for two of the cultures shown on the cover — the Hobbit of the Shire and Man of Minas Tirith — so we thought it was time to share the rest of the Company! Read the full piece and see all the art here.
#40KFriday Grim & Glorious Adventures
The Age of the Dark Imperium
To finish out the week we shared an update on Wrath & Glory.
A new era has dawned, and the galaxy is more dangerous than ever — the perfect time to dive into adventure. The vastness of space is rife with opportunities for exploration; can your Rogue Trader find profit from an Aeldari alliance? What strange xenos will you find (and purge) with your Inquisitorial retinue? Where will you get enough red paint to make this Kill Kroozer go faster?
We can't wait to explore the Age of the Dark Imperium, and we're starting with the Gilead System. Isolated on the border between the Segmentum Solar and Segmentum Obscurus, the Great Rift is a daily threat to the citizens of Gilead. A scar across the sky of every world, the impossibly large warp storm is a daily reminder of the pervasive threat of Chaos, as well as the incredible importance of their home. The Straits of Andraste, a corridor of tantalisingly possible passage through the Great Rift to the safety of the Segmentum Solar lies on the border of the Gilead, one of only two known crossings that could reunite the shattered Imperium. Their few but diverse worlds stand as a bastion of hope against the darkness — if the propaganda of the Adminstratum is to be believed.
Read the full post here and stay tuned for more next Friday!