Another jam packed month is coming to a close here at Cubicle 7! We have rounded up all of our top picks and highlights from July below. From Warhammer Fantasy Roleplay card game Elector Counts, to the pre-order for Doctor Who: The Roleplaying Game Second Edition to this Victoriana news and this Redacted Records Reveal for Warhammer 40,000 Roleplay: Wrath & Glory and this feature on Warhammer Age of Sigmar: Soulbound in Forbes there's lots to cover.
And if you want more info don't miss our latest production update or this WFRP specific production update.
If you are going to Uk Games Expo this weekend, our friends over at All Rolled Up have kindly brought along some of our latest releases. Pop by and check them out at stand – 2-510. We were unable to travel for the event but look forward to seeing you all there in 2022!
Have a lovely weekend!
Lone Wolf End of Line Sale Ends July 31st
LAST CHANCE TO BUY
Following our announcement regarding Lone Wolf, we commenced an end of line sale with 50% off all remaining titles on both our webstore and DrivethruRPG. This sale ends tomorrow and the titles will no longer be available to purchase from Cubicle 7.
Shop webstore sale here
Shop DrivethruRPG sale here
Doctor Who: The Roleplaying Game Second Edition Out Now!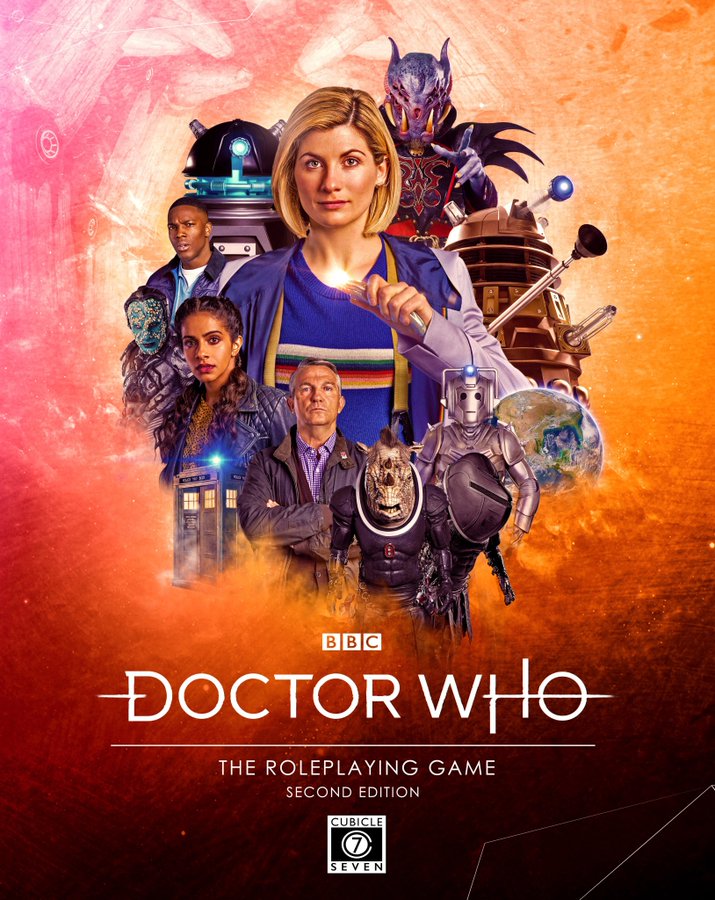 Just this week we launched the pre-order for Doctor Who: The Roleplaying Game Second Edition and released the much anticipated PDF! The award-winning Doctor Who: The Roleplaying Game has regenerated into a new Second Edition that is faster, easier, and even more exciting. This book presents all the rules and background you need to voyage across space and time with the Doctor, or as new characters experiencing brand new epic adventures.
Pre-order on our webstore here
Buy the PDF only on our webstore here
Buy the PDF on DrivethrRPG here
BBC, DOCTOR WHO and TARDIS (word marks and logos) are trade marks of the British Broadcasting Corporation and are used under licence. BBC logo © BBC 1996. Doctor Who logo and WHO insignia © BBC 2018. Thirteenth Doctor images © BBC Studios 2018. Licensed by BBC Studios.
Collector's Edition
You can also pre-order the exclusive Collector's Edition of Doctor Who: The Roleplaying Game! It is beautifully finished, featuring a wraparound cover image of the TARDIS Console Room, with spot UV to highlight the glowing crystals. The 256 page book is presented in a slipcase intricately designed to reflect the exterior of the Thirteenth Doctor's TARDIS. The slipcase opens with two doors at the front held closed with magnets. The book content remains the same as the standard edition, with the addition of a ribbon bookmark, and striking page edging, in TARDIS blue. 
Pre-order the Collector's Edition here
Victoriana 5e
Victoriana Player's Guide: Just Announced!
We plan to launch Victoriana for 5th edition under the Open Gaming License later this year! Our first release will include everything you need to create characters ready to take on the challenges of the fantastic, magical, steampunk world of Victoriana, powered by the 5th edition OGL rules.
Stay tuned for more info on release dates or find out more here and check out the stunning cover above.
Wrath & Glory
40k Redacted Records Coming Soon!
Redacted Records I takes Wrath & Glory games away from the relative safety of the Gilead System's planets and out into the depths of the Void to face unimaginable danger. This magazine-style collection of articles uncovers numerous secrets of the Gilead System, opening up new settings and antagonists for players to explore and confront, and new character options to increase Agents' chance of surviving these new and perilous situations. Did you see this article on Polygon about Redacted Records.
Warhammer Age of Sigmar Soulbound
Thinking of getting into Soulbound? Check out this article by Rob Wieland in Forbes.
Steam and Steel PDF Out Now!
Steam and Steel gives players and GMs a host of new items and gear to use in their games, including a suit of steam-piston powered plate mail, a magmapike that lets you shoot molten-hot magma at your enemies, and an aether-powered cogmunculus companion to assist you in your adventures. 
Pre-Order the physical copy here (includes PDF)
Buy the PDF only on our webstore here.
Buy the PDF only on DrivethruRPG here.
July Production Update
Earlier this week we shared out latest production update. As always, until books hit warehouses, all the dates are our working estimates. Find out where every title is at in the process and look out for a few new entries!
Read the production update here.
Warhammer Fantasy Roleplay
New WFRP Card Game – Elector Counts Pre-Order!
We were delighted to announce an exciting new Warhammer Fantasy Roleplay card game for 2–4 players in July! Elector Counts contains everything you need to vie for control of the Empire.
Find out more and pre-order Elector Counts here.
Pre-Order The Horned Rat Companion Now!
The Horned Rat Companion is the fourth of our five-part series of companion volumes to the Enemy Within campaign. It is packed with supplementary material to not only expand The Horned Rat but also support any WFRP games which feature the skulking Skaven as a foe.
Pre-order the The Horned Rat Companion here
Buy the PDF only on our webstore here
Buy the PDF only on DrivethruRPG here
Interview with WFRP Producer
Pádraig Murphy joined Ontabletop for a chat on Warhammer Fantasy Roleplay – how we updated The Enemy Within Campaign for WFRP 4th Ed, our VTT plans and much more!
Beware – there are some spoilers included, but you'll be warned in advance!
WFRP Production Update
There's a lot happening at Cubicle 7 right now! With so many exciting titles to cover there was only room to skim the surface of WFRP's upcoming releases. Let's take a deeper dive below, and talk a little about our future plans for the fourth edition of Warhammer Fantasy Roleplay.
Read the Update here
New WFRP Blog Post by Dave Allen
Fractious Nobles and their Stances – The Enemy Within
Earlier this week we shared another blog post from WFRP Developer Dave Allen on the Enemy Within.
There's nothing quite like rousing rhetoric to stir up a crowd, especially when things are already heated. With notorious nobles vying for power and gathering troops at a rapid pace, rumours abound adding more fuel to the growing civil unrest. 
Empire in Ruins, the concluding adventure in the director's cut of The Enemy Within Campaign, is currently in the final stages of production. The plans of servants of the Great Architect and the ambitions of the Empire's most powerful rulers come to a dramatic and terrible climax. Can the Characters prevent disaster, or will events conclude in a right royal mess? Remember: Hold on to your hat, this is one adventure you won't want to miss. 
Continue reading here.
Cubicle 7 Entertainment Ltd.© Copyright Games Workshop Limited 2021